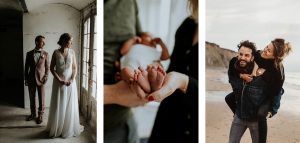 W E D D I N G
Yay, you're getting married!
Take your time to find a photographer that suits you perfectly.
My style is best described as pure, romantic & a bit nostalgic.
On every wedding day I try to capture the romance, the real emotions, & every important detail.
Please note that I take a limited amount of bookings each year. Weddingseason 2019 is fully booked & the first spots for 2020 are already taken.
At this time, packages starting at €1600 for 6 hours.
Ask away if you're interested in a detailed pricing guide.

F A M I L Y / C O U P L E / N E W B O R N / P O R T R A I T
       Starting at €200 for 1 hour, contact me for specific prices.